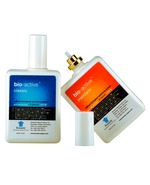 Kennedy Bio-active™
Washroom sanitising fluid
Product Code: CLN AVA BIO
For use with Activa – the fully programmable urinal and toilet sanitising system
Environmentally-friendly biodegradable solution based on natural materials
Non-irritant, non-hazardous, non-corrosive and non-flammable
Foaming in urinals – visible evidence of hygiene solution
Mandarin variant available for stronger localized fragrance
How does Bio-active™ work?
Bio-active™ is made up of six specifically combined technologies:
1. Scale formation prevention
A 'green' biodegradable material stops the formation of scale
2. Uric acid broken down
Selected good bacteria break down uric acid to prevent malodour
3. Growth of bacteria controlled
Growth of harmful bacteria on toilet and urinal surfaces is controlled through "competitive exclusion"
4. Fragrance
A highly effective fragrance releases a pleasant localized fragrance
5. Cleaning action
A surfactant has a cleaning action on the bowl and other surfaces
6. Foaming in the bowl
A second surfactant creates a foaming effect in the bowl – visible evidence that an active substance is present.